In her biweekly column, A Shared Tradition, CIA grad and amateur food historian Molly Siegler cruises around the world (and into the depths of her pantry) to explore the versatility of a single food item.
This week: Molly sorts through a wealth of delicious sandwich traditions.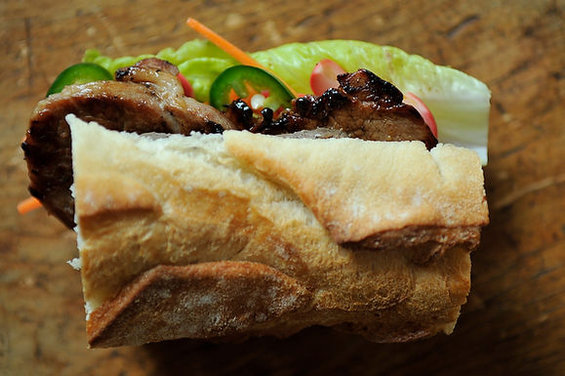 Photo by Sarah Shatz
- Molly
Sandwiches have an innate celebratory vibe -- they are adaptable, often easy to split and share, sometimes whimsical, mostly hand-held, but also simple to pull together. They are the perfect portable feast. Once all your toppings are prepared, you're minutes away from a meal to be remembered.
Many of my most memorable meals have involved pieces of bread and accoutrements: a special fried egg sandwich before a big test day in middle school; my Valentine's Day tuna fish sandwich cut into hearts by Dad; a recent pile of vinegary pulled pork between buns at Oklahoma Joe's; a breakfast spread in Poland with thin whole grain bread, deli meats, soft cheeses with chives and radishes, butter, and mustard. What sandwich memories do you hold on to?
Dutch
The Dutch are really serious about sandwiches. Broodje Haring is a raw herring sandwich lusted after during the late spring in northern Holland. In the Netherlands you can even have a sandwich with chocolate sprinkles and butter for breakfast -- now that's cool.
Raw herring is deliciously fresh and oily in this preparation.
Chopped raw onions add bite.
Pickles sometimes top the sandwich to add an additional vinegary quotient.
Plenty of mayonnaise on the side gives the option for a creamy dipping sauce.
A hotdog bun provides a soft, non-threatening container for the fish.
Italian-American
Submarine sandwiches can be found all over the United States. How do you take your hoagie?
Genoa salami is a soft, peppery member of the charcuterie tradition.
Capicola (or gabagool as they say on The Sopranos) is a delicately spiced, cured meat made from pork shoulder or neck. As it's dry-cured whole (like prosciutto), it provides more chew than salami.
Provolone offers a subtle, creamy counterpoint.
Fluorescent banana peppers offset the richness of the cold cuts.
Vietnamese
Bánh mì sandwiches are a fascinating combination of Vietnamese flavors and French techniques.
A crusty baguette provides the foundation.
Pork pâté provides a fatty, bodacious base layer.
Chilled pork products like wafer-thin pork belly, shredded pork shoulder, or thinly sliced pork tenderloin are all fair game.
Pickled vegetables add bright, crunchy notes -- the perfect foil for the sandwich's hearty meats.
Fresh cilantro provides an essential Vietnamese touch.
Scandinavian
An open-faced sandwich (smørbrød, smørrebrød, or smörgås) with hundreds of iterations.
Dark, thin rye bread is a dense, subtly sour foundation.
A layer of higher fat, cultured European-style butter is essential.
Hard-cooked eggs should be sliced and layered on top of the butter.
Gently poached shrimp tossed with a lemony mayo round out the dish.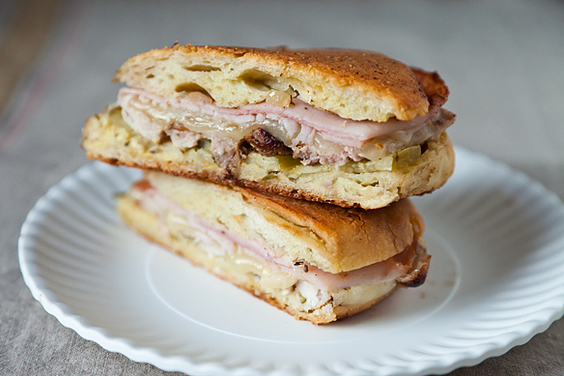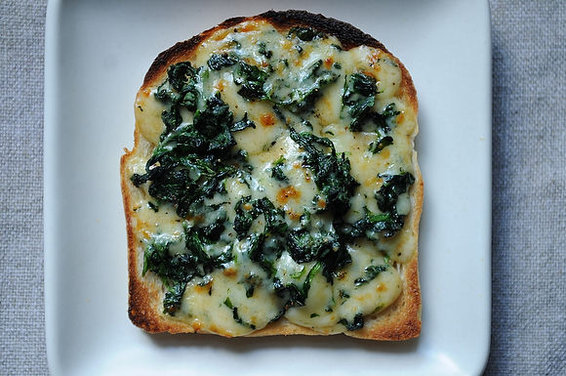 Cubano Mixto and Welsh Rarebit with Spinach are two cheesy examples of hot sandwiches. Photos by James Ransom (left) and Sarah Shatz
These are just a few of the ways I like to travel by way of the sandwich. What other regionally inspired flavors would you use to make this ubiquitous meal your own? Share your ideas in the comments section below.
Do you love a good food theme as much as I do? Tell me what food items or themes you'd like to see featured in this column and your idea could be the subject of an upcoming post!
Like this post? See Molly's previous topic: Popovers.
Molly is a chef and food educator living and cooking in Northern Wisconsin. When she's not dreaming up themed menus, she's dishing out other delicious content as the editorial assistant for the Whole Foods Market Cooking program.