In her biweekly column, A Shared Tradition, CIA grad and amateur food historian Molly Siegler cruises around the world (and into the depths of her pantry) to explore the versatility of a single food item.
This week: Molly turns her attention to sweet, sippable chocolate.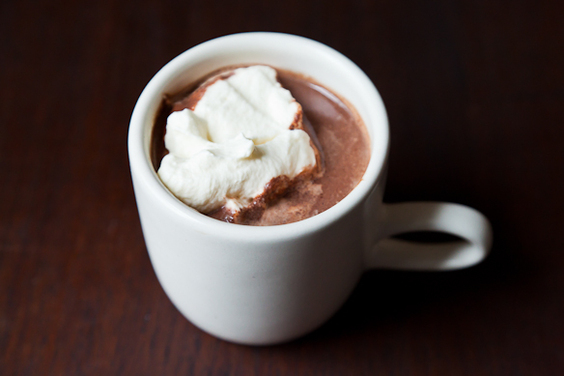 Photo by James Ransom
- Molly
The cacao bean is a powerful substance. It's been wielded as currency, revered as a symbol of worship, touted for its medicinal properties, and used as a conduit of modern romance. In fact, I read 9 out of 10 people like chocolate -- the tenth is lying. As we approach Valentine's Day, I thought it was time we talked about this inescapable, intriguing treat. Drinking chocolate, in particular, is well loved and, frankly, who needs a box of chocolates when you can drink your fill?
When I was 13, I was lucky enough to spend a week on an Alaskan cruise with my extended family. On an extra foggy and cool day, I braved the deck with my parents. We were quickly offered "Irish cocoa" or "regular cocoa." I requested Irish cocoa. I didn't know what Irish cocoa was, but I knew I certainly didn't want regular hot chocolate. In the end, despite my best efforts, I managed only a mug of regular cocoa. I promise these drinking chocolate concepts are anything but "regular"!
Aztec
The original hot chocolate. It has a lingering heat that will rev-up any Valentine's Day plans.
Unsweetened or bittersweet chocolate in block or powder form creates a rich foundation.
Chile powder (or cayenne if you're feeling bold) should be added to the mix.
A whole vanilla bean scraped into the drink will add an intoxicating floral note.
Cacao nibs folded into sweetened whipped cream provide the perfect topper.
Italian
The bicerin is considered a historic drink in the Piedmont region of northern Italy.
A thick pool of melted dark chocolate should cover the bottom of the glass.
Freshly brewed espresso is then poured over the chocolate and gently stirred.
Cold, thick heavy cream is added to the top of the chocolaty espresso.
Add your own flourish by creating homemade marshmallows (pictured below).
English
The Brandy Alexander is a luxurious cocktail that is making a comeback. (This pie offshoot seems too good to be true!)
Dark Crème de Cacao is the silky chocolate liquor that gives this drink its heft.
A jigger of cream pushes this cocktail into the dessert realm.
Golden, raisiny Cognac slices through the cream, while perfectly complementing the chocolate.
Freshly grated nutmeg spices things up.
New York City
The chocolate egg cream is a New York fountain drink with fizzy staying power.
A liberal drizzle of chocolate syrup rests at the bottom of a chilled glass.
Cold whole milk adds body.
Seltzer lightens the drink and combines with the milk to create voluminous froth.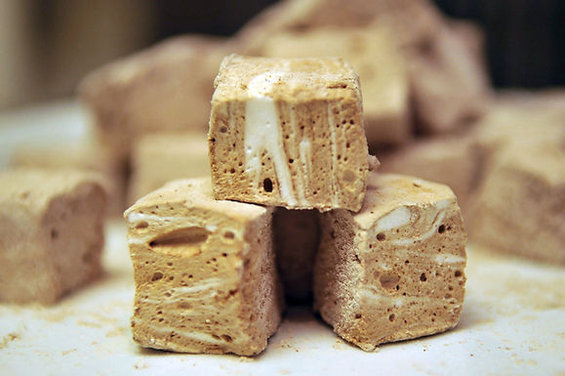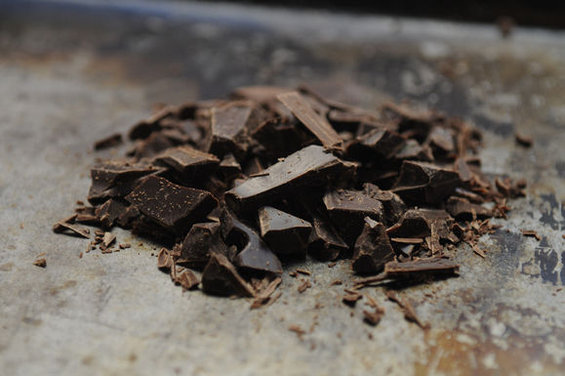 Photos by Sarah Shatz
These are just a few of the ways I like to travel by way of liquid chocolate. What other regionally inspired flavors would you use to make this sippable treat your own? Share your ideas in the comments section below.
Do you love a good food theme as much as I do? Tell me what food items or themes you'd like to see featured in this column and your idea could be the subject of an upcoming post!
Like this post? See Molly's previous topic: Sandwiches.
Molly is a chef and food educator living and cooking in Northern Wisconsin. When she's not dreaming up themed menus, she's dishing out other delicious content as the editorial assistant for the Whole Foods Market Cooking program.