In her biweekly column, A Shared Tradition, CIA grad and amateur food historian Molly Siegler cruises around the world (and into the depths of her pantry) to explore the versatility of a single food item.
This week: Molly takes a tour of sweet, yeast-risen treats.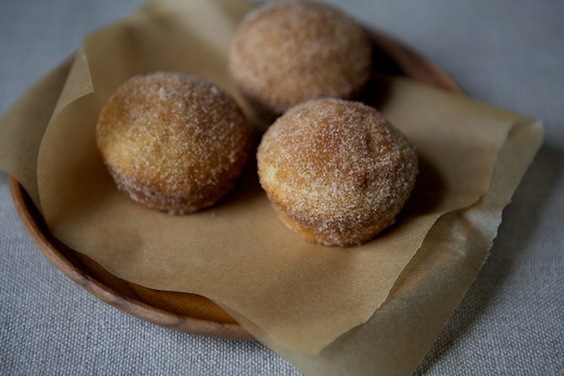 Cinnamon Sugar Breakfast Puffs (photo by Nicole Franzen)
- Molly
My most spectacular (and embarrassing) kitchen disasters have always revolved around sweet rolls. It must be my overly enthusiastic anticipation of the treats. My mom passed along a luscious orange roll recipe last summer that I accidentally drowned in orange juice -- a slight miscalculation. A recipe from my mother-in-law met with a similar fate and quickly morphed from the intended delightful lemon shortcake with blueberry filling to a terrifying and enormous Smurf cake (a little direction-following mishap).
Oh, well. When you get them right, sweet rolls have the power to transcend meal times and dessert regulations. Plan your next brunch or tea party around these beauteous buns.
Scandinavian
Kanelbullar is the sophisticated cousin of the gooey American cinnamon roll. Highly spiced and found in every respectable tearoom, these buns take a bit of practice to perfect (lucky for you!).
A healthy dose of ground cardamom scents the dough with its signature warm, woodsy fragrance.
Cinnamon and softened butter work together to create the sweet roll's spread.
Pearl sugar does not melt like other sugars and speckles the kanelbullar with a saccharine crunch.
Peruvian
Pan Chancay are sweet rolls in disguise.
Cinnamon and brown sugar sweeten up the yeasty dough.
Anise seed lends a licorice air to the bun.
Plenty of melted butter should be slathered on the rolls before baking.
Sesame seeds offer a nutty note and provide a bit of texture.
Belgian
Craquelin has a sugary surprise that pairs perfectly with afternoon coffee.
A buttery brioche foundation sets these buns up for success.
A secret sugar cube stuffed into the center of the roll melts during baking and lacquers the interior of the roll with a crisp candy coating.
Lemon zest (or a splash of orange liqueur) flavors the sugar cube.
Sanding sugar develops a confectionery crust.
Italian
Pagnottini Dolci are like handheld panettone for any time of the year.
An egg-rich dough gives these rolls an irresistible richness -- choose farm-fresh eggs for a deeply colored pastry.
Sultanas plumped in orange juice pepper the smooth dough with juicy bursts.
Orange zest gives the rolls a floral, southern Italian vibe.
A dusting of powdered sugar delicately finishes the presentation.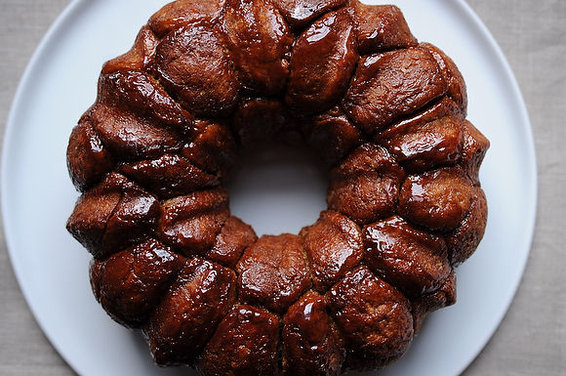 Monkey (Ginger)Bread (photo by Sarah Shatz)
These are just a few of the ways I like to travel by way of sweet rolls. What other regionally inspired flavors would you use to make these toothsome treats your own? Share your ideas in the comments section below.
Do you love a good food theme as much as I do? Tell me what food items or themes you'd like to see featured in this column and your idea could be the subject of an upcoming post!
Like this post? See Molly's previous topic: Cheese Dips.
Molly is a chef and food educator living and cooking in northern Wisconsin. When she's not dreaming up themed menus, she's dishing out other delicious content as the editorial assistant for the Whole Foods Market Cooking program.