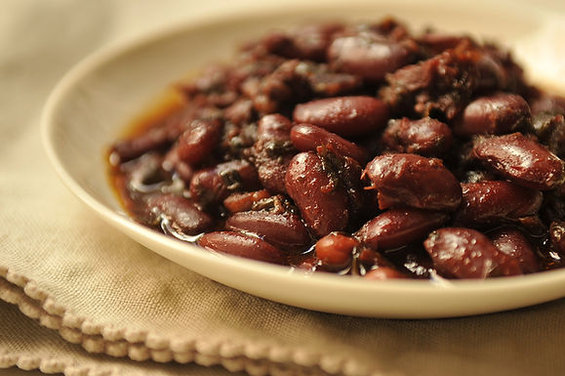 Photo by Sarah Shatz
During this week before Cinco de Mayo, we're honing in on one of Mexico's most enduring culinary essentials: beans. Beans are on the table for breakfast, lunch, and dinner -- and for a quick snack between meals. What better way to celebrate Mexican history (and explore the legume-packed bulk aisle!) than with five irresistible renditions of this inescapable staple?
Stewed
Slowly simmered in broth with very little adornment, these "pot" beans are served at nearly every meal. Scoop up the beans with warm tortillas and add a few crumbles of cheese. Try Terence Hill's Beans (pictured above) or Rio Zape Beans with Toasted Chile Sauce.
Smashed
Once the beans are fully cooked, they can be roughly smashed with a potato masher or fork for varied texture. Hand-mashed beans are perfectly suited to accompany a simple roast pork shoulder with a few slivers of pickled chile peppers.
Refried
Though frijoles refritos should really be termed "well-fried beans," it's tough to concentrate on semantics when these flavorful mashed beans are sizzling in pork lard. Refried Beans are typically served with breakfast dishes (like these Huevos Rancheros) or as a quick spread for an evening snack.
Puréed
Cooked beans can be whizzed in a blender or food processor, or continually stirred over high heat until they meld together. Once silky-smooth, the purée should be slathered on flat rolls as a kind of sandwich spread, or savored with crispy tortilla chips and chicharrón.
Simmered
When beans begin to feel jaded by all the smushing and smashing, they're often slipped whole into stews and soups. Black Bean, Black Barley, and Blue Corn Posole Soup (pictured below) is a hearty vegetarian option, while Short Rib Chili is sure to stick to meat lovers' bones.

Photo by Nicole Franzen
What bean-centric preparations will you prepare for Cinco de Mayo? Share your cooking tips and serving suggestions in the comments section below.