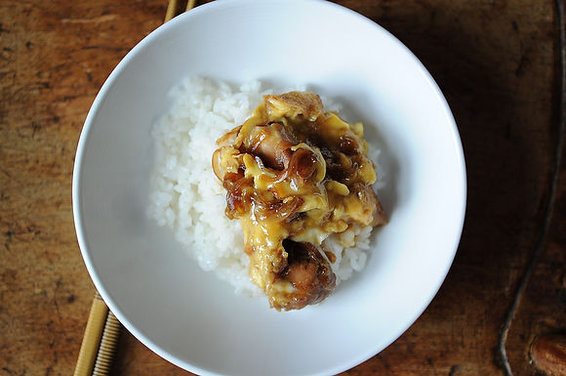 Photo by Sarah Shatz
It doesn't induce quite the same warm flush as one's own childhood comfort food, but discovering that an unfamiliar dish can be soothing upon first bite (as an adult, no less), that someone else's idea of comfort food coincides with your own, that there may be universal qualities that comfort foods share, does feel pretty moving. Oyako don is one such dish that we count as a "new" discovery in the comfort food realm -- at least, for those of us who grew up with pantries that allowed soy sauce to serve as the lone Asian ingredient.
Oyako don basically means "parent-and-child bowl," a poetic reference to the inclusion of chicken and egg, which are simmered together with thinly sliced onions, and then served over cooked rice. Gently cooking beaten eggs in the sweet soy broth infuses the egg with flavor and produces custard-like surroundings for the chicken and onions. The trick is to cook the onions so they remain firm -- despite what it may look like, this dish isn't just soft on soft on soft. (Note: You can always add sliced scallions for more texture.)
Thankfully, unlike those less diverse pantries of decades past, sake, mirin (a sweet cooking wine made from rice), and myriad other ingredients from the East are widely available now, and that means making this dish is a cinch. However, that also means substitutions are more avoidable. Sweet marsala and dry sherry are often named as stand-ins for mirin, but we find, especially in a dish such as this with so few ingredients, relying on an ingredient understudy will throw off the balance of flavors, which is integral to the success of the dish.
Besides, just like any other comfort food, once you taste a dish made the "right" way (meaning according to the recipe, not that this is the only way to make oyako don), you'll want all of the original ingredients on hand to address cravings when they strike. Substituting marsala for mirin would be like swapping fontina for cheddar in macaroni and cheese -- the substitute might be good, but it doesn't quite trigger the original memory (albeit a memory that may have been recently formed).
Oyako Don by Francesca
Serves 2
2 chicken thighs
1 onion
3 eggs
4 tablespoons chicken stock
2 tablespoons sake
2 tablespoons sugar
2 tablespoons mirin (sweet cooking sake)
5 tablespoons soy sauce
2 cups cooked rice
See the full recipe at FOOD52.
• • • • •
Wine Pairings:
This is the kind of food that doesn't make sense! How do these few simple ingredients become such a rich and complex dish? Find and drink a wine in a similar vein. Old world Pinot Noir-type wines are great for dishes like this that are rich in umami. If white is your pleasure, try off-dry Riesling or sake.
Top Picks
2009 Louis Latour Marsannay Pinot Noir, France
Ippin Junmai Sake 720 ml, Japan
Have you ever made oyako don? What other types of rice bowls do you make at home? Share your cooking tips in the comments section below.
Like this post? See the Easy Everyday topic from last week: Peach Tart.